Case Study: Upper and Lower Eyelid Blepharoplasty and Endoscopic Brow Lift
Pictured here is a 57 year old woman who came to see for help with the appearance of her eyes. She felt that she looked tired all the time despite getting good sleep and taking care of herself. She noticed drooping of her upper eyelids, excess skin and dark circles on her lower lids.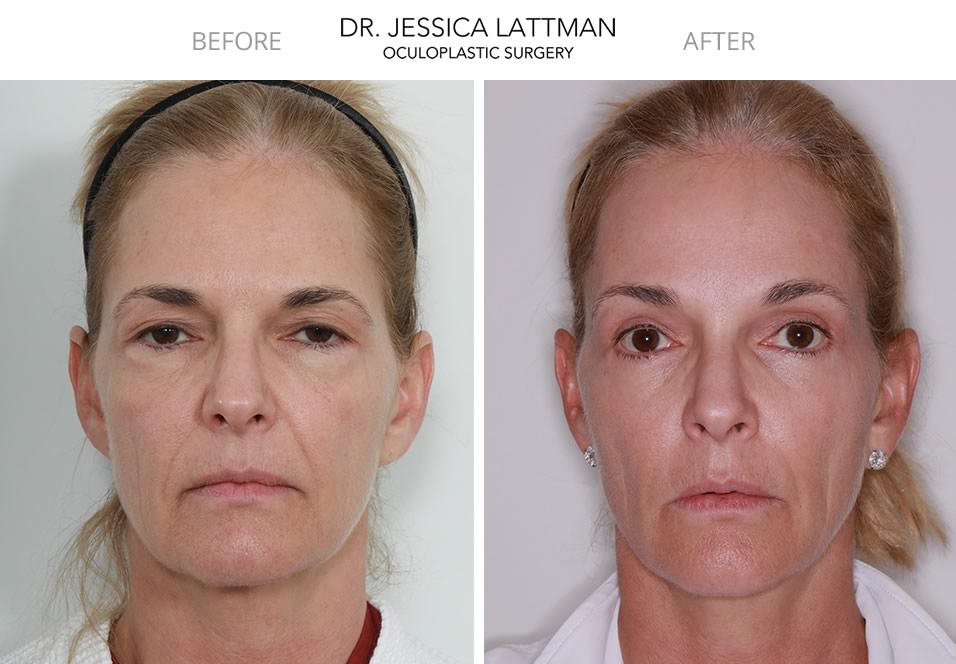 In the pre-op photo you can see an extreme heaviness of her upper lids. Her eyebrows are also low. The combination of all this extra weight on her eyelids, have pushed the lids down so she looks half asleep. Also in the pre-op photos you can see that her lower lids have bags and excess hanging skin, causing dark circles and a tired appearance.
4 months ago I performed and upper and lower blepharoplasty and an endoscopic brow lift. As part of the lower eyelid blepharoplasty, I performed my signature "muscle suspension." This allows a complete rejuvenation of the lower lids without changing the shape of the eye. The surgery took about 2 hours and the recovery a few weeks.
She is thrilled with her revitalized look. The result is natural and will last her a lifetime.
Call us at (212) 832-5456
Or request online that we call you back by submitting our online request form here.