Tips for taking care of your Eyelid Skin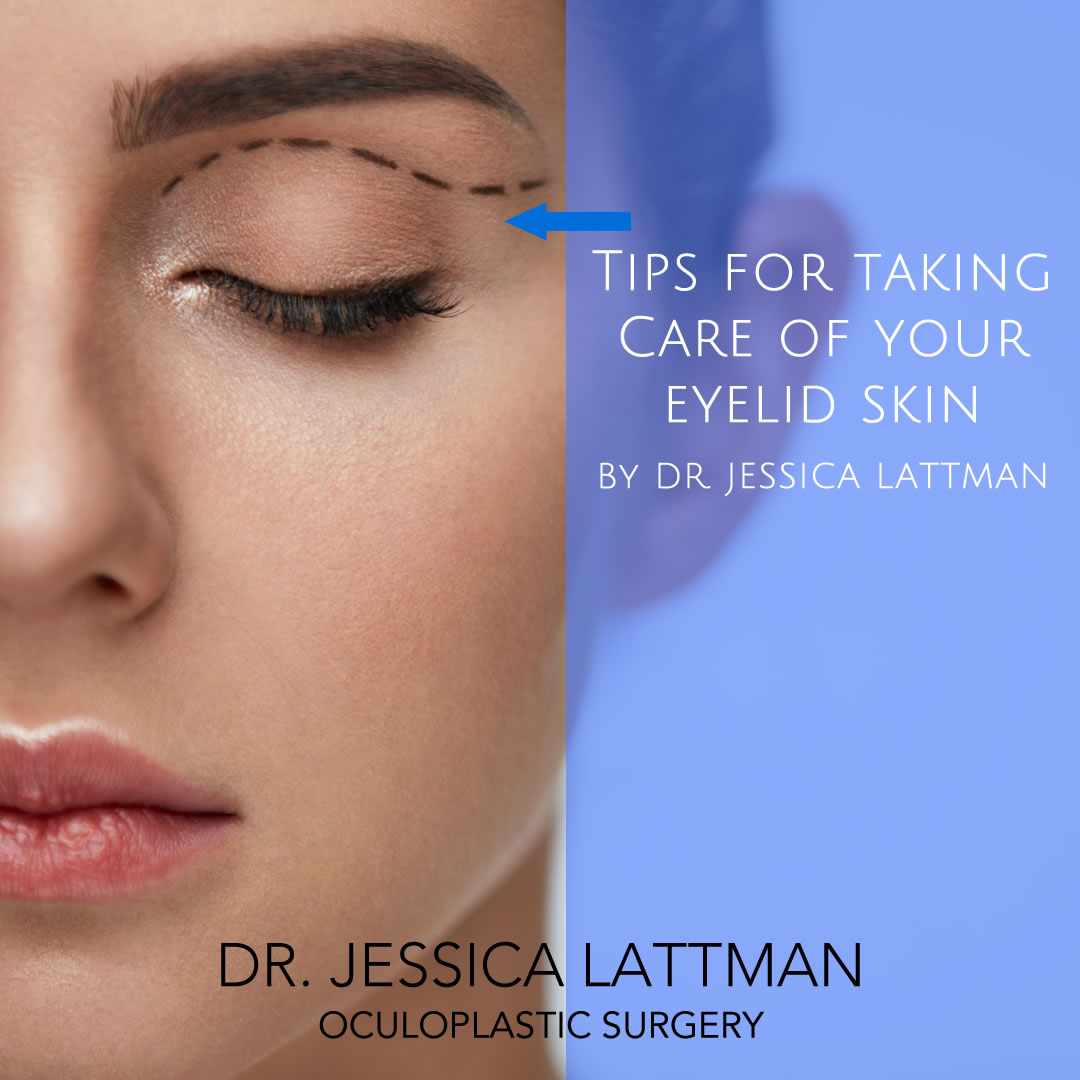 The eyelid skin is often the first area on the face to show signs of aging. I see many patients who are bothered by the skin under their eyes, but are not yet candidates for cosmetic eyelid surgery. Many patients often ask what they can do to rejuvenate the delicate eyelid skin, and how they can prevent aging.
First, the skin around your eyes is thinner and more delicate than the skin on any other part of your body. Because the eyelid skin is in constant motion, blinking, smiling etc, it gets a lot of wear and tear. Also the eyelid skin is exposed to UV rays more than other areas of the body. Genetic predisposition can also lead to early aging around the eyes.
Common issues related to the eyelid skin are, fine lines, discoloration, dark circles and puffiness. No matter what your age, it is never too soon, or too late to start caring for your eyelid skin. Here are a few of my favorite tips:
Sun Protection:
Sun exposure is the eyelid skin's biggest enemy! Apply sunscreen everyday, and protect your eyes with sunglasses that block UVA and UVB rays. I love Elta MD SPF 46 clear facial sunscreen. I keep it next to my toothbrush and put it on every morning. I also keep a bottle in my office and reapply before I go home.
Stay Hydrated:
Keeping well hydrated improves skin elasticity and hides fine lines. Drinking water and avoiding excess salt reduces water retention and can help to bring down puffiness.
Eat Well:
Avoiding processed foods is a must. An anti-inflammatory, plant based diet can help the eyelid skin to stay more youthful. My favorite anti-aging foods are spinach, almond milk, hummus and blueberries.
Skin Cream:
I use skin better, rejuvenate smoothing daily treatment eye cream. It helps to treat fine lines and improves the overall quality of my skin.
Botox, Xeomin, Dysport:
Neuromodulators help to decrease fine lines and wrinkles by relaxing the muscles of facial expression. So not only do they work to make you look better now, they also prevent the skin from prematurely aging by reducing the wear and tear on it.
Laser Resurfacing:
In my office I have a Co2 laser that I treat the eyelid skin with. This is a great way to rejuvenate the eyelid skin. In only a single treatment the laser can reduce fine lines, give the skin a more firm and smooth appearance, improve scars, reduce sun damage, reduce skin blotches and improve pigmentary changes.
Filler to the Lower Eyelids:
In some patients, hollow areas on the lower lid can cause the skin to appear dark and shadowed. Filler to the lower lids can improve contour issues and give the eyelid and the eyelid skin a smoother appearance
Call us at (212) 832-5456
Or request online that we call you back by submitting our online request form here.