Protecting Your Delicate Eyelids In The Summer
I tell all my patients to be extra careful in the summer to protect the delicate eyelid skin. This means hat and sunglasses any time you are outside. Here are some great tips tips for choosing the right pair of sunglasses: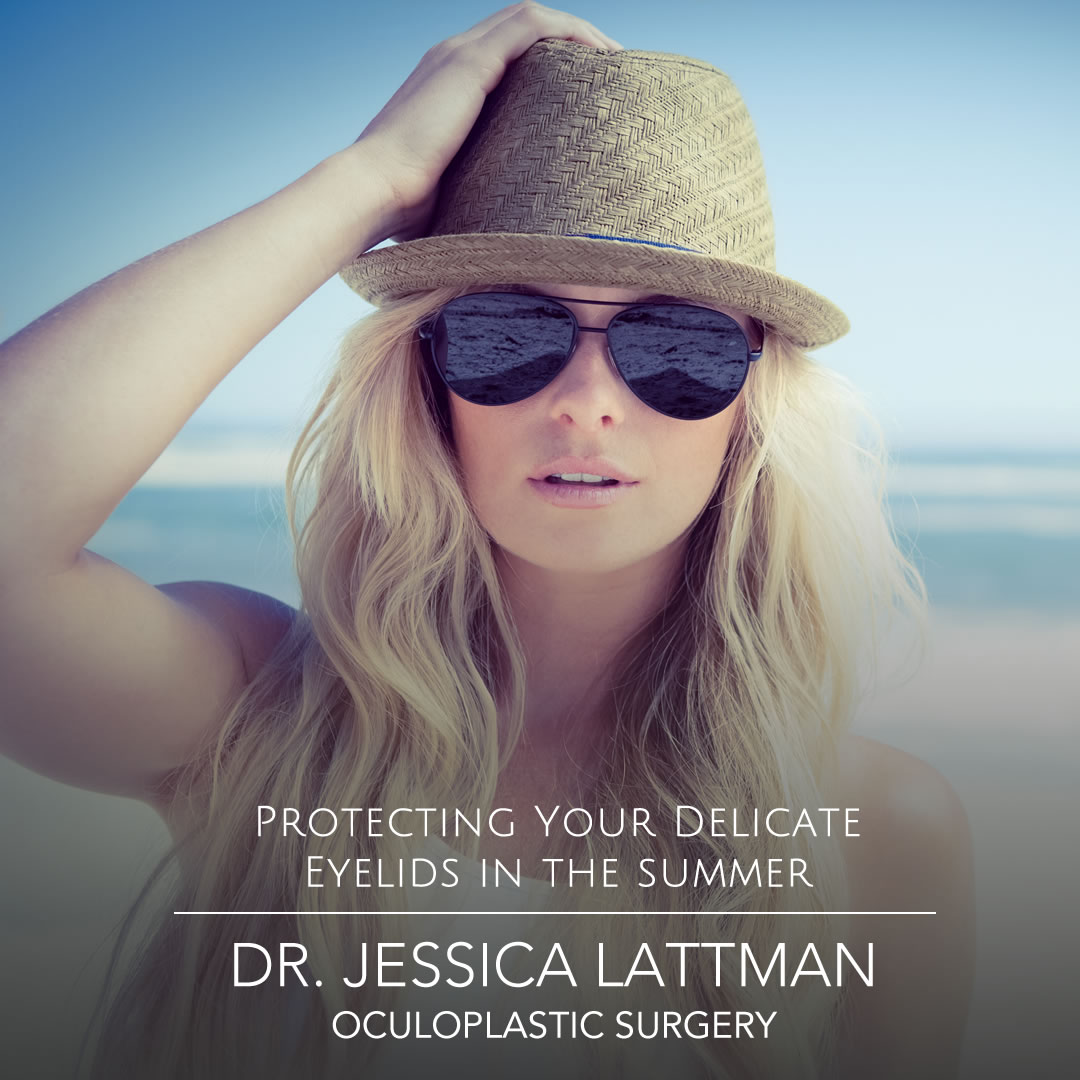 Wear 100 % UV protective sunglasses. UV protection information should be printed on the hangtag or price sticker of any sunglasses you buy, no matter where you buy themIf it isn't, find a different pair. The glasses you buy should be marked 100% UV protection, or UV 400 protection. That means that the glasses protect your eyes from both UVA and UVB radiation.
Lens color matters. Dark colors (brown/gray/green) are ideal for everyday use and most outdoor activities. Darker shades are intended primarily to cut through the glare and reduce eyestrain in moderate-to-bright conditions. Gray and green lenses won't distort colors, while brown lenses may cause minor distortion.
Use polarized lenses to reduce glare in improve quality of vision. Polarized lenses substantially reduce glare. Polarization is a great feature if you enjoy water sports and will also cut down on eye fatigue.
Consider a lens coating. These can include a hydrophobic coating to repel water, an anti-scratch coating to improve durability and an anti-fog coating for humid conditions or high-energy activities.
Lens size should extend beyond your eyes, covering the skin below and to the sides of your eyes as well. Wrap around sunglasses are the best.
Choose the lens material wisely: Polyurethane provides superior impact-resistance and excellent optical clarity. It's flexible and lightweight, but expensive. Polycarbonate has excellent impact-resistance and very good optical clarity. It's affordable, lightweight and low-bulk, but less scratch-resistant. Acrylic is an inexpensive alternative to polycarbonate, best suited for casual or occasional-use sunglasses. It's less durable and optically clear than polycarbonate or glass with some image distortion.
Buy sunglasses that are properly fit to your face. Here are some tips when trying on a pair of sunglasses:
Frames should fit snugly on your nose and ears, but not pinch or rub.

The weight of sunglasses should be evenly distributed between your ears and nose. Frames should be light enough to avoid excess friction on these contact points.
Your eyelashes should not contact the frame.
You may be able to adjust the fit of metal or wire-core frames by carefully bending the frame at the bridge and/or temples.
You may be able to adjust nose-pieces by pinching them closer together or farther apart.
If possible have your glasses prescription put into your sunglasses. Most optical shops can do this for you. The better you see out of your sunglasses the more likely you are to wear them. Sunglasses can be made now with progressive lenses for those who need reading glasses!
Call us at (212) 832-5456
Or request online that we call you back by submitting our online request form here.